The constantly changing search algorithms have made it a necessity for businesses to own have effective communication channels to their audience and customers. Email remains one of the most powerful platforms, which has stood the test of time. Therefore, having an Email newsletter service allows businesses, blogs and eCommerce owners to take on a wide range of tasks that include small-scale personal notes and many automated campaigns.
The tasks of creating and sharing email newsletters have become easier. Email newsletter software allows you to send important emails to all your subscribers, be they promotions, personal notes or bulk messaging. It's important to know what is out there and how you can use email newsletter services to your advantage.
But what is at the core of your email newsletter service?
Choosing Your Newsletter Service:
When you are searching for a powerful email newsletter service you need one with the functionality and features that work for your blog and business. Certain tools are built for specific job types such as eCommerce, blogs of course a company's website. There are a few core areas that you should look out for in your email newsletter service.
Don't choose one with all the bells and whistles as this may be distracting and time-consuming to learn. Also, don't go for what's popular or suggested to you, it's your blog and business, choose what is right for you.
But let's have a look at what every email newsletter service should have:
Design Functionality– Whether it's technical designs or a simple template you require, your email newsletter service should have some design functionality so you can put your touch on it.
Contact List integration– If your blog has been collecting contact information for quite a while, it may be spread out, you need to ability to combine this information.
Email Testing– Both Spam and A/B testing functionality should be available with your email newsletter service.
Price– You need the price to be right, most service providers have multiple pricing plans. Discover what is right for you.
Automation– Whether it's auto-responding to the importation of contact information or automated emails, you need to have automation in your email service so you can get the job done quickly and efficiently.
Some of the best Email Newsletter Service Providers:
Groupmail
Groupmail is one of the best emails newsletter service providers on the market. It allows for simple template design through their inbuilt gallery and powerful HTML editor. As the name suggests Groupmail provides segmentation, powerful analytics, storage and collaboration channels. Perfect for blog email lists both big and small. You can target specific audience members with personalised messaging for signups and important anniversaries or specific CTAs.
Key Features:
Powerful HTML Editor.
Group segmentation capabilities.
Contact list importation from the likes of Oracle, SQL, my SQL, among others.
Smart sending through direct sending, Spam testing etc.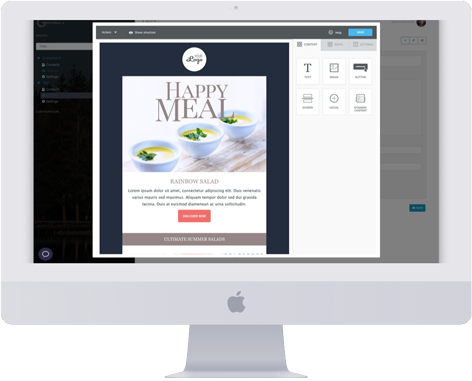 Benchmark
This email newsletter service allows you to create an innovative email newsletter through drag-and-drop. It provides non-technical marketers with the ability to curate creative newsletters adding their touch to the finished product. You can also use readymade newsletter templates for your design ideas.
Key Features
Drag and Drop Builder
Photo Editing
RSS Builder
Customize Colours
A/B Testing
Inbox Checker
Constant Contact
Among the fastest-growing email newsletter services in the world, Constant Contact is easy to use and efficient. It allows you to manage email lists, templates, contacts, the marketing calendar, etc. With every account, you receive unlimited emails, integrating social media sharing tools, easy tracking and reporting, list segmentation, free image library, eCommerce integration, and much more.
Not the best option outside of the US, Constant contact remains a powerful tool and should be considered by all blog and business owners.
Key Features
Email marketing automation
Drag and drop
Email marketing for eCommerce tools
Social posting
Inbox
Scheduling
Analytics
Facebook and Instagram Ads
Contact list management
Real-time result tracker
SendInBlue
With this easy-to-use tool, you don't need any technical skills to curate creative email newsletters. It allows you to access drag-and-drop functionality, an extensive template library, and an HTML editor to create beautiful emails. It integrates a powerful automation pipeline, enabling you to send various emails depending on certain actions.
With easy-to-use automation as part of the package, SendInBlue continues to grow and develop as a strong email newsletter service for blog owners.
Key Features
CRM
Marketing Automation
Segmentation
Transactional Email
GetResponse
GetResponse is a user-friendly email newsletter service provider that makes it easier to manage your email marketing. You can easily add contacts either individually or import them through a file. The software is primarily for eCommerce sites and webinars. It provides you with tons of free stock pictures and an in-built Shutterstock gallery. You can tie this in with your existing blog or online store.
But the latter is not free. After you have designed your email, you will see a summary page. Here you can add a title to the campaign, subject line, and email recipients. GetResponse is also available as a mobile application to create emails, access data, and manage contacts. A good thing about this service is that you can try each package for free in a 30-days trial period.
For example the Key Features include:
Drag and drop design
Mobile-friendly email
Automated email options
Customer segmentation
Unlimited number of emails
24×7 customer support
Conclusion
In conclusion, Email marketing service providers are a cost-effective way of boosting brand awareness. The ROI of email far outstrips many other marketing methods so it's important to have it right. When you choose the best email newsletter service for your business, above all you can create beautiful newsletters to attract an audience.